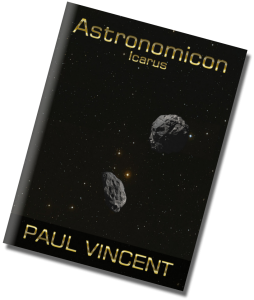 It's taken a while to get to this stage, a new stricter proof-reading system being the main cause of delay, but Icarus is now available from Amazon.com and Amazon.co.uk.
This is the first of the "Astronomicon Universe" books. These books are within the main Astronomicon universe, sharing the same technology, history and races, but do not form part of the ongoing core story. Astronomicon: Icarus can be read as part of the Astronomicon series or on its own as a standalone novel.
Set in 2078, it tells the intriguing story of the deep space mining vessel Icarus and its discovery of a stranded prototype vessel deep within the Trojan asteroid cluster in the orbit of Jupiter. The crew of the Icarus decide to rescue the survivors of the prototype vessel and unwitting become involved in a battle to protect secrets, save lives and escape with their own. Few things are what they appear to be, but will they work everything out in time?
I would love to hear what everyone thinks of this exciting, new novel. I have several more non-core Astronomicon novels in the early planning stages, and it would be excellent to get some feedback before I start work on those properly.