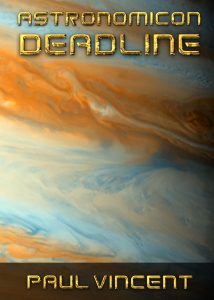 This is another stand-alone story set within the Astronomicon universe, and something of a departure from my usual style. Firstly, rather than being embedded in space exploration, interstellar issues and alien invasion, Deadline follows two people's adventure on the JHF Celtic Conveyor interplanetary freighter as they attempt to uncover a conspiracy while dark forces attempt to stop them.
Secondly, and I think much more importantly, this science fiction novel is much more light-hearted than my previous works and features elements of humour throughout.
If I had to liken it to the works of another author, I really don't know who. That will probably have to wait until my wonderful readers get their hands on it.
Sorry – no longer available.