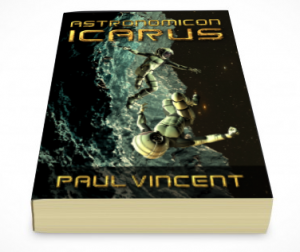 This book is interesting in several ways. Firstly "Icarus" was my NaNoWriMo (NAtional NOvel WRIting MOnth) project for 2012. This was a fascinating challenge, and much less taxing than I feared it might be. If any of you reading this have been considering giving NaNoWriMo a go but have not yet taken part, I strongly recommend giving it a go in 2014. The community spirit is excellent and you will meet lots of friendly and useful people, and probably learn a thing or two in the process.
This is also my first Astronomicon novel which is not part of the ongoing main story, but rather a standalone sci-fi story set in the same universe. Set in 2078, this novel covers an exciting event in the Trojan asteroids in Jupiter's orbit. A piece of classic science fiction, following the adventures of a small asteroid mining vessel named "Icarus" as it copes with new crew members, a difficult and deadly location and the discovery of a mysterious prototype vessel. A daring rescue ensues, during which the crew of the Icarus find horrors and weirdness that they cannot explain. Soon they are fighting for their lives and on the run.
Astronomicon: Icarus is now available in e-book form from Amazon:
If you would like to see some preview shots of the spacecraft from which the book takes its name, see here. The 3D model was constructed to help with the planning, ensure consistency and may ultimately form the basis of some illustrations within the book.
Click here if you want to find out more about NaNoWriMo.
Reader comments:
I don't even know what to say!!! This is fantastic! Truly, this is one of the best things I've read. I love your writing! The story was just absolutely brilliant! No other way to describe it! Just amazing!!! (MagicalLandofFoo 28/12/2017)