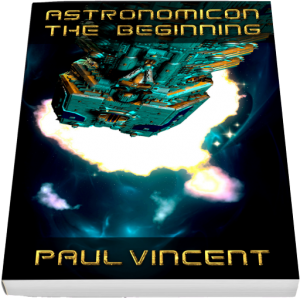 It's been a lot of work and it's STILL not finished, but the first batch of chapters have been sent to my trusty proofreaders. The second and third (final) batch will be going that way very soon and I'm now trying to sort out a new front cover too. The layout and font are in place but I'm missing the actual cover art. I did consider going with a pure black cover with just the title of the book across the middle in the classic Astronomicon font, but for that to work, it needs to be embossed or foiled. Less than that tends to look more like a printing issue!
There's still a round of editing and then a final proofread to go before I publish the initial release version on Wattpad. An Amazon launch will follow within weeks after that but in a break from my previous business model, it will not be free. Being free on Amazon now is a quick way to disappear in a sea of poor quality junk, so Astronomicon #1 will be priced at 99p (99c) instead. It's a token payment (the lowest Amazon permit) but it means the novel will be competing with paid books rather than all the free stuff out there.
One more thing which hasn't happened yet is the title reveal. It will no longer be named "Astronomicon: The Beginning" but the new name is a secret for now.