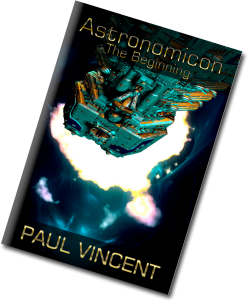 After having had over two dozen people request this (some more than once!), I've given in and repriced Astronomicon: The Beginning (First book in the epic Astronomicon series) down to just 99c (that's just 79p in the UK). That low price makes a fantastic  bargain for 390 pages of highly rated, quality science fiction. That's over 120,000 words.
With only 5 star reviews on GoodReads.com and a 4 star review on Amazon, it has been very well received by readers. Of course I would love to get more reviews, preferably good ones!
I'm not sure yet on how long this offer will run, but I expect to return it to the normal, full price of $3.99 (£2.59 in the UK) at the start of June. I will post more information when I have decided.
Don't miss out: Download it from Amazon right away.
(This clever link will automatically take you directly to your LOCAL Amazon website).