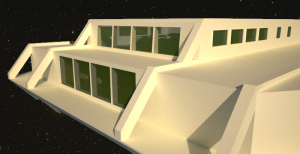 I thought it was time to give another update on the progress with the Jovian Heavy Freighter Celtic Conveyor design. There probably won't be much more construction work beyond exterior dressing now as I am mostly working on writing the novel. All the elements I expect to feature within "Astronomicon: Deadline" are already designed, so I can get on with writing the first draft.
For those of you who are interested, here are a few statistics about the Celtic Conveyor:
Overall Length: 450m
Width: 35m
Mass: 150,000 Metric Tons
Payload Capacity 221,000 Metric Tons
Cargo Pods: 24
Captain: Nigel Hoffman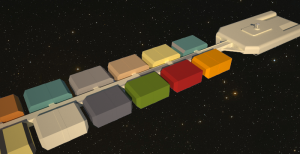 Obviously, being a freighter, the Celtic Conveyor's carrying capacity is largely dedicated to the enormous detachable cargo pods. Each of these is 20 metres long, 13.5 wide and almost 8 metres tall. These can be pressurised if preferred and airlock access is provided to each along the Celtic Conveyor's central spine.
The vessel is able to fly without some or all the cargo pods, but any connected pods should be balanced to avoid affecting the vessel's flight characteristics. For financial reasons a full cargo manifest is preferred wherever possible.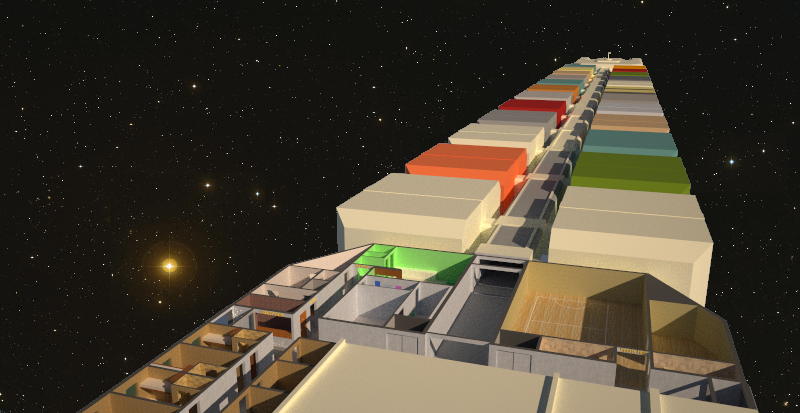 What really sets this model apart from the science fiction ship models you normally see is that most of the internal structure is also modelled. In this view you can see cabins on the far left, a reception area behind that and some of the passenger facilities located in the rear of the passenger deck. These include (from left to right), a GP surgery, pharmacy, a dental surgery, small infirmary, sports hall and exercise gym facilities with changing rooms.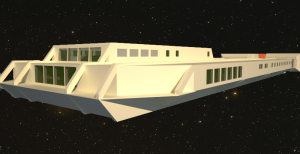 JHF Celtic Conveyor's design incorporates a variety of factors and influences. The primary concerns are practicality and viability. The bow, in particular, features several nods to maritime vessels. The vessel's long, thin shape presents the smallest possible surface area to the direction of travel, minimising micrometeorite damage during transit. The shape also allows for much lower powered field emitters to be used to protect the vessel from Jovian radiation emissions.
The passenger deck is designed to be practical and efficient whilst providing comfortable and varied space for passengers to enjoy voyages of between one and two months. There are two kitchens. The main one situated in the restaurant on the Passenger Deck, but there is a support kitchen on the lower Service Deck which also acts as a backup in case of equipment failures in the main kitchen.  The passenger deck also houses all food and consumable supplies, water and atmosphere reprocessing facilities, laundry, secondary crew accommodation, 32 Cryosleep pods and some extra passenger entertainment facilities.
The vessels almost flat 3 deck layout only became viable once artificial gravity technology was adopted from the Eridani people. See "Distant Relatives" for more information.