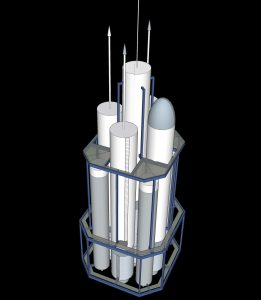 Well, I didn't finish my planning before the beginning of November, but that's okay – I'll plough on into writing it anyway. I'll just have to fill in the holes in my planning as I go along. It's hard to predict how long the book will be but the original was 125,500 words but I expect this one to be a little shorter, maybe more like 90-100,000 words. The challenge will be hitting that during November! I'll need to average over 3300 words per day, every day, without fail. That's going to be tough!
I must also come up with a new cover to match the new Elysian design. I've built a 3D model of the new ship but with nowhere near enough detail to render up for a book cover. My 3D design skills are not good enough for that job, so I need to come up with an alternative plan for that. There won't be a cover reveal until I've sort that one.
The new ship design is a coup for me. The original Elysian in the first edition of "The Beginning" was more akin to a miniature Battlestar Galactica than anything realistic. The new version (shown in the illustration here) is very nearly within our construction capabilities now. It's over 20 years since I wrote the original novel and I expected our space technology to have moved on somewhat further than it has by now. Clearly, the original Elysian will not be possible in 2037 but this new design should be creatable within the next 18 years. Sadly, I see no intention by any country to populate other star systems. Everyone seems set to just continue in worsening pollution and poverty until we are strangled by our own uncontrolled overpopulation.
On a lighter note, there's a new title for the book too. I'm keeping that secret for now as it might yet change. With the extra workload, I'm not going to be posting or tweeting much this month, but don't worry, I haven't given up. I'll try to post occasional updates on my progress to compensate. If you'd like to support me on Patreon while I achieve this project, please click here for more information.