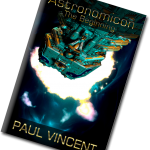 It's been quite a while since I last did a freebie promotion on any of my books. I was about to announce that this one for Astronomicon: The Beginning has been the second best one to date, but then I realised that as Amazon runs promotions on one of the American timezones, there is actually more than eight hours left to go. That's plenty of time to rack up a few hundred more downloads.
As people are still taking advantage of this excellent offer at quite a pace, there's a pretty good chance that this promotion will set a new record for me. More importantly, people are already purchasing the sequel (Distant Relatives) and even Icarus. What I find most heartening is the number of people who appear to be buying both of those books at the same time.
It's definitely a LOT harder to persuade people to try a free book than it was two years ago. I've used a lot of experience and contacts, even more preparation and great deal of work to let as many people know as possible but have only achieved a slightly higher rate than last year when I did about a quarter of the work.