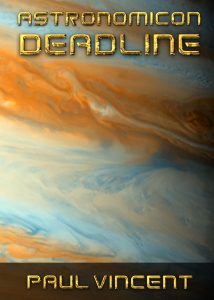 Sorry it's taken over three years for my latest novel "Deadline" to see the light of day. As of today, it is available all over the world to download from Amazon (or at least all the places where Amazon is available).
It is a standalone novel, set firmly within the Astronomicon universe, but is probably my biggest departure in style so far. Most of my works to date have contained elements of humour, mostly within dialogue, but Deadline is different as the whole novel is written as a humorous, action adventure of a more farcical nature.
It follows two main characters who, for differing reasons, need to get back to Earth from Jupiter before a deadline. The problem is everything around them gets in the way. They never expected to face aliens, space pirates,  agents from a shadowy government organisation and a mystery intruder.