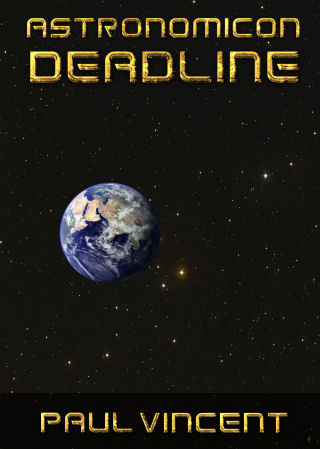 Well I'd like to start by apologising to all the readers who are waiting for this next Astronomicon novel to hit the electronic shelves.
Life has repeatedly got in the way this year and work has been crazy for the past few months. Sadly I'm not in a position to be a full-time writer yet, so my creative efforts have to fit in around everything else. Progress on Astronomicon: Deadline has been much slower than I'd hoped.
Even with everything else that's going on, I have still made progress and am pleased to announce that the first draft is now safely past the halfway mark and early stage proof-reading (continuity, character names etc.) is underway too. I'm aiming to finish the first draft by the end of September.
On a more exciting level, I can now reveal the design for the front cover. Whilst the colour scheme and style remain consistent with previous Astronomicon novels, the font I've used has been completely replaced. I'm hoping you will all agree that the new font has much more impact that the previous one and is a marked improvement aesthetically.
The image, currently the Earth floating in space, is subject to change. I'm looking into placing a rendered 3D model of the Celtic Conveyor Freighter to the right of the Earth, approaching from the near right of the camera viewpoint. Currently the model of the highly complex vessel is not detailed enough to be used like that. I don't want to put time into enhancing the model until I've completed the writing!
There's lots of work to go and I'm particularly looking forward to writing some of the plot twists and turns that so many of you enjoy. I've also put a lot of work in to making the various characters in the story much deeper and more distinctive than previously. Most of the characters have been lots of fun to work with, particularly the bad guys. I hope that really shows through when you read it!
---